Lili Huang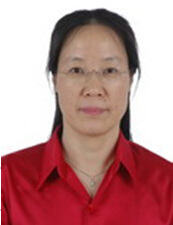 Chief Scientist of the National '973' Program,
  Professor, PhD advisor,
  Vice-Dean, College of Plant Protection
  Principle Investigator, State Key Laboratory of Crop Stress Biology for Arid Areas
  Email: huanglili@nwsuaf.edu.cn
  Tel: 02987091312
  Research Focus
  I mainly focus on the plant diseases control caused by pathogenic fungi and bacteria. I have been working on biology and pathogenesis of pathogen, on the molecular mechanism of pathogen-host interactions, and the biological control for wheat and fruit trees.
  Selected Research Projects
  1. National Natural Science Foundation of China-The mechanism of effector VmE02 inducing plant cell seath during Valsa mali - apple interaction (31671982), 2017.01-2020.12, ? 600,000.
  2. The national basic research program of China (973 program)-Biology of virulence variation in important fungal pathogens of wheat. (2013CB127700), 2013.01-2017.08, ? 32,000,000.
  3. National Natural Science Foundation of China-Mechanisms of suppressing plant immunity by an effector protein VmEP1 secreted by apple pathogenic fungus Valsa mali. (31471732), 2015.01-2018.12, ? 850,000.
  4. National Natural Science Foundation of China-Gene expression and pathogenesis during the infection progress of apple pathogenic fungus Valsa mali. (31171796), 2012.01-2015.12, ? 640,000.
  5. Special Fund for Agro-scientific Research in the Public Interest-Research and demonstration for prevention and disease control of apple tree valsa canker. (201203034), 2012.01-2016.12, ? 2,470,000.
  Selected Publications
  1 Genome sequence of Valsa canker pathogens uncovers a potential adaptation of colonization of woody bark, New Phytologist, 2015.
  2 Candidate effector proteins of the necrotropic apple canker pathogen Valsa mali can suppress BAX-induced PCD, Frontiers in plant science, 2015.
  3 Saccharothrix yanglingensis strain Hhs.015 is a promising biocontrol agent on apple Valsa canker, Plant Disease, 2015.
  4 Comparison of cell death and accumulation of reactive oxygen species in wheat lines with or without Yr36 responding to Puccinia striiformisf.sp.tritici underlow andhigh temperaturesatseedling and adult-plant stages, Protoplasma, 2015.
  5 Field detection of canker-causing bacteria on kiwifruit trees: Pseudomonas syringae pv. actinidiae is the major causal agent, Crop Protection, 2015.
  6 Transcriptome profiling to identify genes involved in pathogenicity of Valsa mali on apple tree, Fungal Genetics and Biology, 2014.
  7 Agrobacterium tumefaciens-mediated transformation of the causative agent of valsa canker of apple tree Valsa mali var. mali, Current Microbiology, 2014.
  8 Delimiting cryptic pathogen species causing apple Valsa canker with multilocus data, Ecology and Evolution, 2014.
  9 Histological and cytological investigations of the infection and colonization of apple bark by Valsa mali var. mali, Australasian Plant Pathology, 2013.
  10 A nested PCR assay for detecting Valsa mali var. mali in different tissues of apple trees, Plant Disease, 2012.
  Academic Reports of Graduate Students on Academic Conferences
  1. Yuxing Wu. 2015/08. Nanjing. A Mitogen-activated protein kinase gene (VmPMK1) is required for development, conidiation and pathogenicity of Valsa mali on apple tree.
  The 4th International Conference on Biotic-Plant Interactions.
  2. Zhibo Zhao. 2014/06. Shanghai. Bacterial canker of kiwifruit in Shanxi Province of China. The 13th International Conference on Plant Pathogenic Bacteria.
  3. Na Song. 2014/07. Shenyang. Functional analysis of six pectinases of Valsa mali. Annual Conference of Chinese Society of Plant Pathology and the 4th Sino-US Symposium on Plant Pathology.
  Academic Awards of Graduate Students
  1. Zhiyuan Yin: National Scholarship for PhD Student, Foundation for the Author of Excellent Doctoral Dissertation of NWSUAF;
  2. Hua Zhao: Outstanding Ph.D. thesis of Shaanxi Province; etc
  Employment of Graduate Students
  Doctors: Hua Zhao, Northwest A & F University;
  Xiwang Ke, Heilongjiang Bayi Agricultural University;
  Rui Zang, Henan Agricultural University; etc.
  Mastesr: Baoquan Huang, Agriculture Technical Extension Centre of Hanzhong;
  Jie Yang, Agriculture Technical Extension Centre of Xi'an;
  Zhe Song, Xishuangbanna Tropical Botanical Garden of Chinese Academy of Sciences; etc.